Sekarang hari sabtu tanggal 23 Mei, ya
ng berarti hari H-3 sebelum keberangkatan.

Oh well, i'll go to Turkey on 26th May. And this is my first.

Maksudnya, pertama kalinya ke luar negeri dan harus tanpa orangtua alias cuma
sama teman-te
man kampus (btw, ini termasuk acara kampus gitu deh .red),

which is kinda exciting

sekaligus

frightening

. Pasti aku udik banget nanti di sana, hahaha.

And actually,

aku nggak terlalu suka terbang, apalagi sampe 10 jam. Tapi mungkin SQ bakal mengubah pandanganku.. Amin.


Anyway,

aku pulang tanggal 4 kalo nggak salah. Jadi kurang lebih cuma 9-10 hari. Duh perutku mulai mules lagi setiap kali inget itu, hehehe. Jadi, cuma sebentar kok..

Don't miss me,

ya.. (Sebenernya nggak apa-apa sih kalo mo kangen, hihiy)

Oiya, mungkin besok-besok selama aku di sana aku nggak bakal sempet n
geblo
g. Secara ribet kalo bawa-bawa laptop, dan kalo pun bisa dari handpho
ne, masalahnya berhubung providerku adalah provider yang depannya X belakangnya L, jadi aku cuma bisa nerima telfon dan sms-an. Sedangkan kalo sms dari sana, biayanya adalah Rp 4000, sedangkan kalo dari Indonesia ke Turki biayanya hanya Rp 499. Jadi,

don't hesitate to text me,

tapi kalo nggak dibales jangan marah yaa.. Maklum Rp 4000..




And i'll miss him. Of course i'll miss everybody..

Tapi dia, hmmm.. hehehe.. Mana dia lagi UAS,

and i can't 'standing' beside him, to support him.

Huffh.. Tapi aku bakal ngasi kabar ke dia begitu aku ada kesempatan, jadi kamu tenang saja.. Hehehe.



Oia, ini beberapa tempat yang bakal ku kunjungi selama di sana..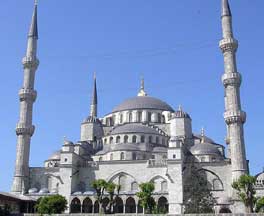 blue mosque

(istanbul)



bosphorus cruise
istanbul university
(katanya sih ini universitas pertama alias tertua di dunia)
dan masih banyak lagi, tapi males upload. hahaha. Ntar deh
full report
nya yaa.. Setelah aku pulang.
See ya guys.
anyway
, aku nemu foto-foto perjalanan orang di Turki. Klik aja di
sini
. Kira-kira hampir mirip
destinations
-ku.